Annandale

High School




Class Of 1971
Welcome
We're glad you stopped by!
Thanks for making the AHS website successful!
Since 02/04/2011 we've had over
77,582
visits to our website!
53.1% of our classmates have joined the website!
(statistic as of 07/02/2017)
_______________________
SUMMER FUN with CLASSMATES
It's time to get involved!
Submit your summer fun photos
Click the 2017 Summer Fun navigation link to view photos contributed by fellow classmates.
What, not many photos?
Help make this page fun by uploading your summer fun photos.
(Navigate to the 2017 Summer Fun page and follow the directions!)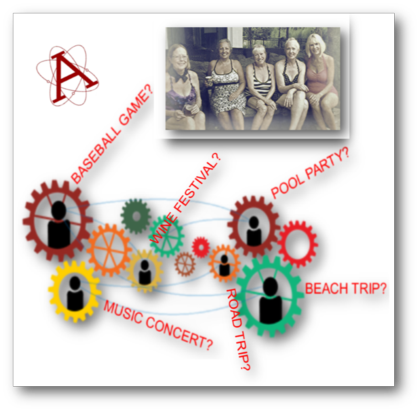 ________________________
AHS CLASS OF 1971 CALENDAR
Search this calendar to discover class-wide activites or events
__________________________________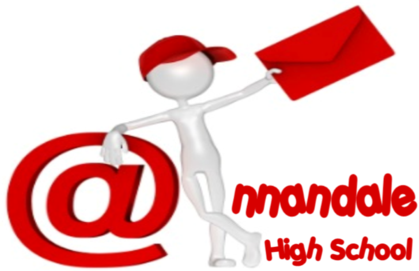 Classmates!
A reminder - If you change email addresses would you please update your profile page or send Paul Peters your new email address. We'd hate to lose contact with you after all these years!
__________________________________
CLASSMATE FUN, ADVENTURE, AND HOBBIES
CLASSMATES -
WE'D LOVE TO PUBLISH YOUR ADVENTURES OR HOBBY HERE!
Send to 1971grad@gmail.com
_________________________________
Tickets to the ballgame
We are down to the last 6 tickets to the Nationals vs. the LA Dodgers ballgame. If you would like to attend please contact Mike Gassmann ( mlg7string@gmail.com ) . Mail payment (made out to Mike Gassmann) to: Mike Gassmann - 1413 N. Nash Street Arlington, VA 22209. Please don't delay tickets won't last long.
LET'S GET TOGETHER!
We've got the tickets, now we need you to make the day great!
TAKE ME OUT TO THE BALLPARK!
Join fellow classmates at Nationals Park
(Washington, DC)
Saturday, September 16, 2017
for a 1:05 PM ball game!
The Washington Nationals
vs.
The LA Dodgers
Section 306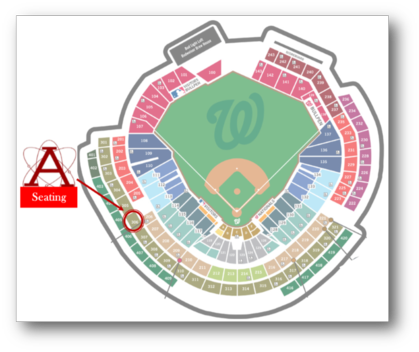 Row G, Seats, 1 - 7 * Row H, Seats 1 -7 * Row J, Seats, 1 - 6
Limited Number of Tickets Available
Price per ticket - $33.00
Make checks out to: AHS class of 1971
Send payment to: Maureen Hackert 6162 River Sound Circle Southport, NC 28461
______________________
IT'S TIME TO REACH OUT!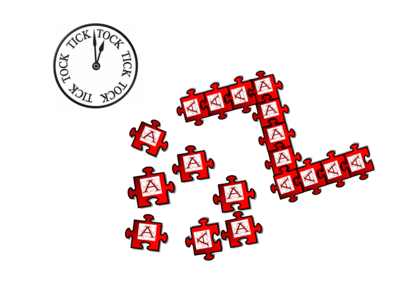 Hey classmates! Are you curious about what happened to an old girlfriend or boyfriend? Have you spoken to your friend from marching band or a teammate from the football team lately? Do you have the nerve to finally break the ice with someone you admired or had a crush on nearly 50 years ago and contact them? You might be surprised at their response!
What advice can I offer? We're all pieces of the same puzzle board. STOP what you're doing, and send an email, or break the ice with a voice call! JUST DO IT!
Don't worry that too much time has slipped between your last conversation, or that you're too boring, too needy, too long-winded, too quiet, too something. Do you think that you lack the social charms to attract a classmate's friendship? Nonsense, we all share the same hometown roots! We are ATOMS, through and through!
With our recent losses of classmates, spouses, and family members, plus our slow advancing ages it's time to reach out and renew an old classmate friendship or make a new one.
With our message forum, classmate message center - class-wide email, or private classmate to classmate email withln the classmate's profile page, as well as other social media staying in touch or reaching out is easy.
SO WHY HAVEN'T YOU'VE DONE IT!
When it's too late for an email or personal phone call because time has slipped away don't say, "I wish I had the chance to know them better." The ball is in your court!
Paul
_____________________
HEY CLASSMATES

_____________________________________
One of the harshest realities of a high school reunion is learning of the passing of a fellow classmate. With that in mind, the reunion committee would like to enlist your help in discovering information on fellow classmates or favored teachers that may have passed away since our graduation.
HOW CAN I HELP?
Go to the "In Memory" section of our website and review the information on classmates who've passed, or lack of information regarding their passing. Send an email to 1971grad@gmail.com and give us an update or provide new information on a classmate who has passed. If possible, forwarding an obituary notice would allow us to provide greater detail on our classmate's passing and their family situation.
Thanks, we appreciate your help!
______________________________________
FUN FOR EVERYONE!
______________________________
CONTEST SUBMISSIONS -
CHECK THEM OUT ON THE 2017 CONTEST PAGE!
HEY CLASSMATES! WE'RE HAVING A TALENT CONTEST
AND YOU'RE THE STAR!
Hold on, before you dust off your tap shoes, count your hula hoops, or get your clarinet out of the trunk let me give you the news!
Bad News: The event has ended.
Good News: We have two winners!
Steve Wendt & Sam Juliano have both won AHS sweatshirts!
Congratulations to both!
The reunion committee wishes to thank both contestants for their entries, time, and talent. Both submissions were creative and we enjoyed the challenge of making a selection. In the end, both were selected co-winners.
Paul
. ____________________
We started our 2017 AHS classmate fun with a New Year's luncheon today, January 14th, . We met at Sweetwater Tavern, in Centreville. The weather wasn't an issue and we had 13 of 18 who had RSVP'd attend. As an observation - It is always amazing to me to see how friendships forged in the hallways of Annandale High School have stayed-the-course, even after 45 years. Today, the conversations flowed as if we had seen each other last week. It was great to see everyone enjoying themselves.
Check out the photos using the navigation bar - "Photos of Jan 2017 Lunch"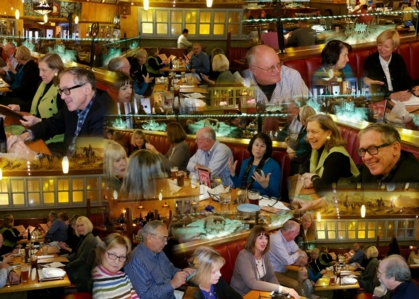 BTW: We're planning a New Year's Luncheon for 2018 and we want to include you!
________________________
GREETINGS!
Well Classmates, 2016 has been a wild ride. Sadly, we've lost a few members of the class and we continue to read and hear about the passing of AHS class parents, many of whom you've followed in the message forum. However, there is good news, we've gained a few classmates into the 1971 Class AHS website family. We welcome those who have joined for the first time or who have signed on again after an absence. We're glad you're here! BTW: The website began Feburary 4, 2011 and as of today we've had 71,594 classmate visits. Isn't that fantastic? If you've been an enthusiastic a passionate user, a sporadic, or infrequent visitor please take a few minutes and update your profile. While you're at it how about updating and uploading some photos? We'd love to catch up on your family, pets, vacations, new homes, or travel. If you'll bend my ear, I'll even share a few photos from a vacation with my wife, Jill from last summer!
________________________
My wish for you for the upcoming year
May each day of the coming year be vibrant and bright for you! Let's celebrate together by sharing with our classmates memories from Annandale High. Take a moment this holiday season to send a thoughtful message to those who shared the hallways, sat in class with you, who danced with you at the sock hops, or cuddled up with at the fall football games. Send a note to thank the thespians and band members who entertained us, or the guys and gals who represented us in the academic competitions. Remember those who spent countless hours putting the "A-Blast" to bed and provided the news we followed. Finally, at this time of year remember those who lived on the fringe, who were too awkward to be social, or who just didn't find their niche. Yes, after forty-five years it's never too late to reach out and share a message of Merry Christmas, or Happy Holidays, a pleasant email, or phone call. Take the time this season to reach out! The reason will never be better then now!
Each of you are a reason for me to smile and remember joyful times. Thank you, the wealth of memories that live on within our website will keep me and hopefully all of us forever young! So, as you ring in the new year lift a smile heavenward and be thankful for your years or tears at AHS.
Paul Peters
PS. If you didn't hear we had a grand 45th AHS class reunion! Psst! Don't look now but we are quietly sneaking up on our 50th reunion. It'll be a real blast so start planning to attend now!
___________________
The 45th reunion in video
Remember to click the "full screen" icon!
Paul Peters, video
And the melodic voice of Sam (Sammy) Juliano
We hope you enjoy!
_______________________________
Events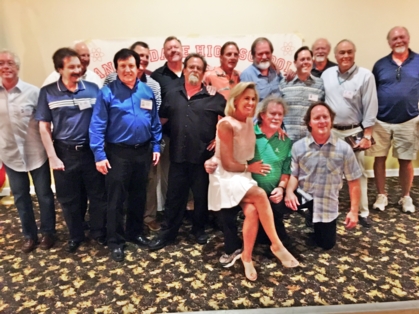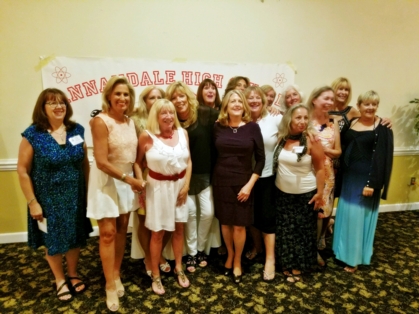 Class reunions reveal friendships that haven't yet been realized!
THE REUNION WEEKEND IS OVER BUT NOT SOON FORGOTTEN

_________________________
ANNANDALE IN VIDEO
Click the screen to pause the video. Click the start arrow to resume the video.
________________________________________________________
2017
More time together sharing memories
More time together making memories
UPCOMING BIRTHDAYS


Announcements:
A video is available on the "In Memory" page remembering our classmates.
(If you have an announcement, commentery, or submission for print please email: 1971grad@gmail.com)
Life is fragile and difficult to press on without holding dear the memory
of those we have loved and those whose simple actions and friendships
have enriched our lives.
- Paul Peters
We kindly ask you to forward any information on classmates who have passed without our notice. We will truly miss them and do recognize that without their individual influnences our lives would not be as blessed.