Annandale

High School




Class Of 1971
Welcome
We're glad you stopped by!
Thanks for making the AHS website successful!
Since 02/04/2011 we've had over
80,922
visits to our website!
53.1% of our classmates have joined the website!
(statistic as of 10/23/2017)
___________________
AHS CLASS OF 1971 CALENDAR
Search this calendar to discover class-wide activites or events
_________________________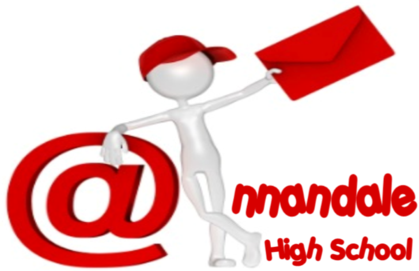 Classmates!
A reminder - If you change email addresses would you please update your profile page or send Paul Peters your new email address. We'd hate to lose contact with you after all these years!
________________________
CLASSMATE FUN, ADVENTURE, AND HOBBIES
Mike & Dave Gassmann
Mike and son, Dave entertaining patrons as they view the artwork of Pattee Hipschen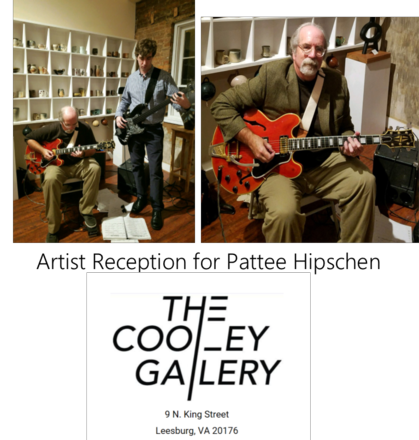 The Coolery art gallery is owned by Chris Cooley
Chris played tight end for the Washington Redskin, 2004 - 2012
________________________________
Well Classmates,
It's October 1st and I saw my first Christmas commercial on TV! Can you believe it? Or, how about Halloween decorations with ghouls and goblins displayed along-side pre-decorated Christmas trees and fancy, animated elves all plying for your attention. Phew, at least our senses haven't been assaulted, as yet, by Christmas carols floating down like snow flurries from the store's loud speakers. If you want to witness the dichotomy of seasons, go to Hobby Lobby!
But remember the merchant's motto - the early bird retailer gets the worm bucks!
Say, what happened to Thanksgiving? At least for Halloween you can dress funny and trick or treat your friends and neighbors for candy. For Christmas, well, Aunt Emma's ugly Christmas sweater is in fashion! But what about the lonely turkey? Remember, old Ben Franklin wanted the turkey to become our National Symbol. Is there still a children's table on Thanksgiving Day where children are seen and not heard? Or, is it a free-for-all in front of the TV for football?
Too many questions so here's the assignment –
1. Send us your traditional Thanksgiving menu and include all the trimmings!
Or
2. Send us a copy of your family's favorite dessert recipe.
Or
3. Your family's favorite stuffing recipe.
Sorry, no prizes but don't be a turkey and not participate. We'll post all the recipes and menu items on the website. So, how about an Atoms smasher cocktail recipe, or an A-Blast, "Rally 'Round the Flag Pole" Chicken Pot Pie?
Please send submissions to 1971grad@gmail.com
Deadline for entries – Sunday, November 12, 2017
Choose Turkey Day 2017 on the navigation bar to view entries!
Or, click this link - Turkey Day 2017
__________
BATTER UP!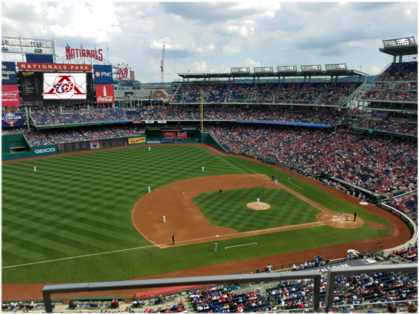 Hey Classmates!
We had a great time at Nationals Park.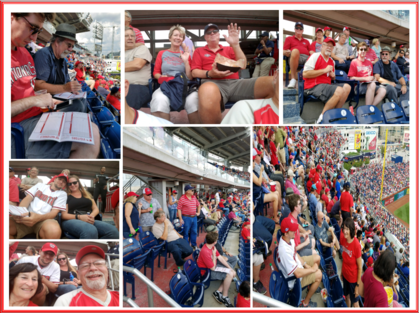 ______________
IT'S TIME TO REACH OUT!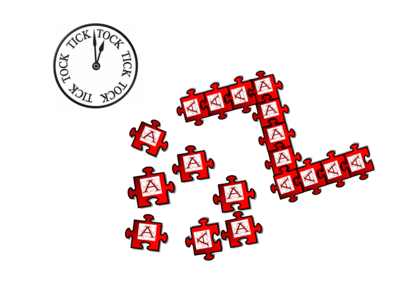 Hey classmates! Are you curious about what happened to an old girlfriend or boyfriend? Have you spoken to your friend from marching band or a teammate from the football team lately? Do you have the nerve to finally break the ice with someone you admired or had a crush on nearly 50 years ago and contact them? You might be surprised at their response!
What advice can I offer? We're all pieces of the same puzzle board. STOP what you're doing, and send an email, or break the ice with a voice call! JUST DO IT!
Don't worry that too much time has slipped between your last conversation, or that you're too boring, too needy, too long-winded, too quiet, too something. Do you think that you lack the social charms to attract a classmate's friendship? Nonsense, we all share the same hometown roots! We are ATOMS, through and through!
With our recent losses of classmates, spouses, and family members, plus our slow advancing ages it's time to reach out and renew an old classmate friendship or make a new one.
With our message forum, classmate message center - class-wide email, or private classmate to classmate email withln the classmate's profile page, as well as other social media staying in touch or reaching out is easy.
SO WHY HAVEN'T YOU'VE DONE IT!
When it's too late for an email or personal phone call because time has slipped away don't say, "I wish I had the chance to know them better." The ball is in your court!
Paul
____________________
We started our 2017 AHS classmate fun with a New Year's luncheon today, January 14th, . We met at Sweetwater Tavern, in Centreville. The weather wasn't an issue and we had 13 of 18 who had RSVP'd attend. As an observation - It is always amazing to me to see how friendships forged in the hallways of Annandale High School have stayed-the-course, even after 45 years. Today, the conversations flowed as if we had seen each other last week. It was great to see everyone enjoying themselves.
Check out the photos using the navigation bar - "Photos of Jan 2017 Lunch"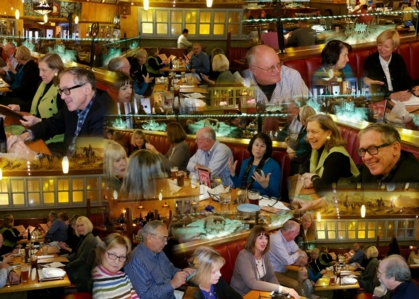 BTW: We're planning a New Year's Luncheon for 2018 and we want to include you!
________________________
________________________
My wish for you for the upcoming year
May each day of the coming year be vibrant and bright for you! Let's celebrate together by sharing with our classmates memories from Annandale High. Take a moment this holiday season to send a thoughtful message to those who shared the hallways, sat in class with you, who danced with you at the sock hops, or cuddled up with at the fall football games. Send a note to thank the thespians and band members who entertained us, or the guys and gals who represented us in the academic competitions. Remember those who spent countless hours putting the "A-Blast" to bed and provided the news we followed. Finally, at this time of year remember those who lived on the fringe, who were too awkward to be social, or who just didn't find their niche. Yes, after forty-five years it's never too late to reach out and share a message of Merry Christmas, or Happy Holidays, a pleasant email, or phone call. Take the time this season to reach out! The reason will never be better then now!
Each of you are a reason for me to smile and remember joyful times. Thank you, the wealth of memories that live on within our website will keep me and hopefully all of us forever young! So, as you ring in the new year lift a smile heavenward and be thankful for your years or tears at AHS.
Paul Peters
_________________________
ANNANDALE IN VIDEO
Click the screen to pause the video. Click the start arrow to resume the video.
________________________________________________________
2017
More time together sharing memories
More time together making memories
UPCOMING BIRTHDAYS